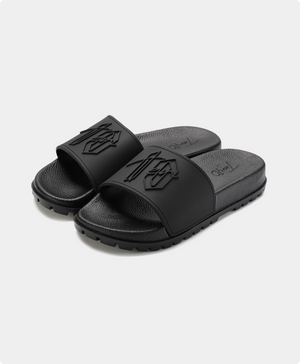 Tentoes Black / Black Sliders
Ten10's Premium Sliders are a stylish and practical accessory, designed in Birmingham. These sliders feature a rubber band with an embossed Ten10 logo, which adds a touch of sophistication to the design.
Stylist Notes
Ten10's sliders are more than just footwear – they are a statement piece that adds a touch of sophistication and style to your outfits. Whether you're going for a streetwear look, beach vibes, or casual comfort, these sliders are versatile and can elevate any ensemble with their subtle yet distinctive logo. Step up your shoe game with Ten10's embossed logo sliders and confidently express your fashion sense with every step!